Wellness tortoise in India, Ayurveda hare
Some of India's top celebrities are tweeting about Puressentiel, a French wellness brand that is making its mark among the country's rich and famous. The products are certified by the world's topmost laboratories, what is probably not known is that the Paris-based company sources bulk of its raw materials from India. So there is a slice of Indian civilisation in their jars.
So why can't Indian companies do the same?
Wellness is one of the most upcoming sectors in the billion plus nation, the business estimated to be approximately Rs 500 billion. Worldwide, the wellness market stands at a whopping $5 trillion. In India, there is growing consumer awareness because there seems to be a desire among the millennial population to transform their lifestyles for the better. There is an unprecedented boom.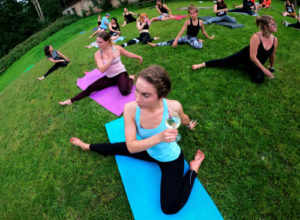 People are using wellness products at home, even at the office forming meditation circles. They use wellness products to clean the air and chant what Buddhist monks advised them. They are guided through deep breaths, speak to each other about calmness in life and complete their self-hypnosis exercise. Wellness products help them with fitness, breathing, sleep and overworking, even back aches. They claim it is working, at times far better than ayurvedic products which are sold like sugar and soap in stores in India. Actually, for the first time in many years, the big Indian bazaar is seeing a serious competition between wellness and ayurvedic products.
Both are stressing the importance of work-life balance and mental health, claiming their side of the coin is the best. To counter the domination of ayurvedic products, wellness initiatives have ramped up across the country. The battle is between what many claim are two brilliant products.
Employers calling for more wellness in the workplace, people at home are saying wellness needs to be there all the time. No one needs lectures on stress management. They need results, be it ayurveda or wellness. Everyone wants to feel de-stressed. So any product which takes a more holistic approach to well-being is going off the shelves. Ayurveda – at this point in time – is ahead of the race because it is being backed by the Indian government. Wellness is still seen as a niche. But both are needed for millions of Indians who want a desperate break from allopathic tablets, even homeopathic pills. And it is because the World Health Organization (WHO) officially recognized burnout as an "occupational phenomenon" caused by chronic workplace stress. And it is now spreading to homes.
The Indian government has data that shows employers aren't doing enough to reduce burnout within the workplace, the government also has data that shows how discord within the four walls of home is causing severe burnout. So the Ministry of Ayush is plugging ayurveda from a wellness perspective, saying ayurvedic products will help people free their minds of work from time to time, and help them to be more open about their challenges.
But the government needs to think about wellness as well and offer sops so that the industry rises exponentially. If both ayurveda and wellness stay next to each other, Indians will benefit and gather knowledge to beat toxic stress and stress culture. Both can be great answers to reduce the pathway to burnout. Indians, claim many studies, know they're stressed but do nothing about it.
Wellness, many claim, is the perfect cap to yoga, meditation and ayurveda. It helps you to be proactive and catch things, rather than dealing with burnout. Those tired with the epidemic of burnout are trying wellness in India. And it is mainly because they are tired, sick of being sick all the time.
Wellness is like the new dietitian with a completely different take to energise the body. It is like making one feel good in their skin, live full and meaningful lives, respect bodies. It turns people from being sluggish to vibrant and confident.The Indian government is inviting players to invest in wellness under the flagship Make In India scheme. With people looking for holistic fitness avenues, yoga became the buzzword across the world and India became the destination to meet this demand. Yoga and fitness dominate nearly 40 percent of the wellness market share in India.
Now is the time for the products to make a mark. The domestic market in India is waiting to be tapped. There appears to be greater opportunity for value creation. Wellness refers to complete well-being that goes beyond any disease-free neutral point. Indians, honestly, aren't accustomed to giving much credence to wellness, they have a tendency towards sick-care and treatment versus preventive care and maintenance of overall well-being. Worse, health insurance policies do not target wellness but hospitalization and treatment. But now it is changing. Indians not only want to look good but feel good too, leading to increased focus on eating, working and living healthy. Diet, weight, physical activities, and sleep can now be tracked and tuned.
The Ministry of Ayush has a separate department for Yoga, which has been exempted from service tax. How about offering sops to companies in the wellness space?